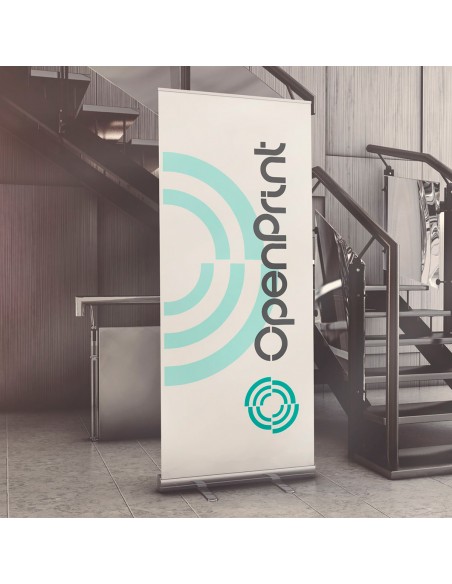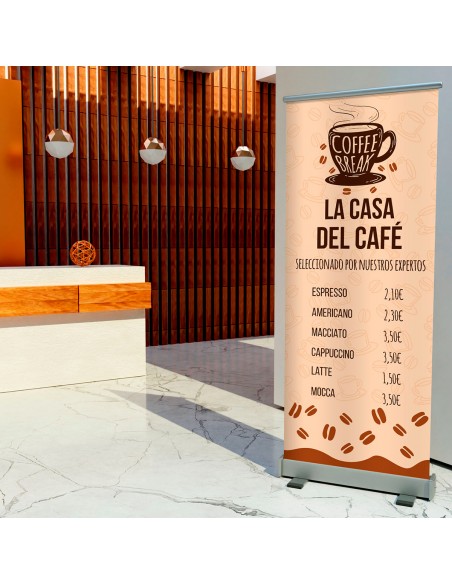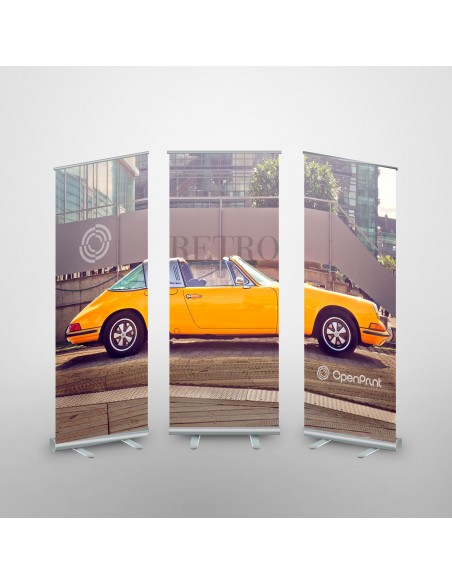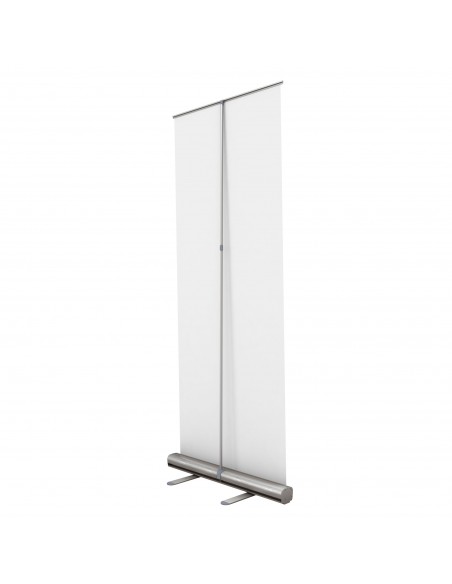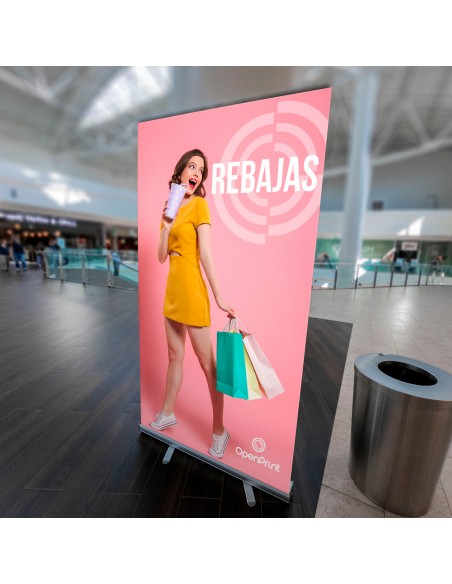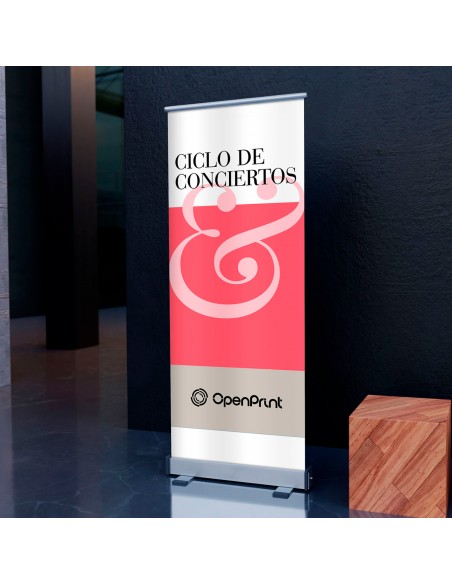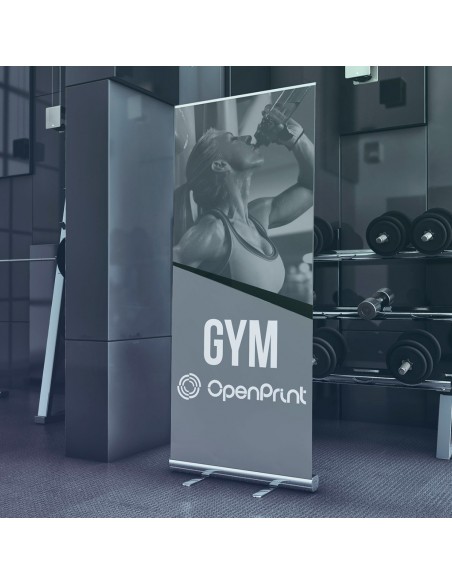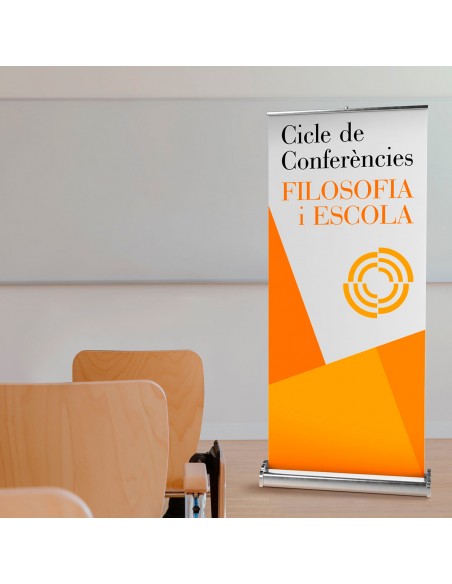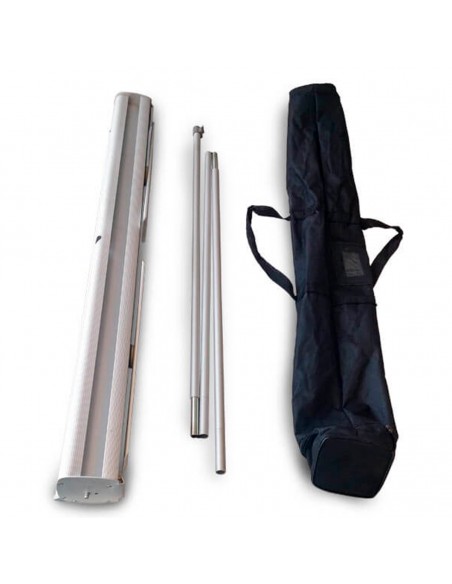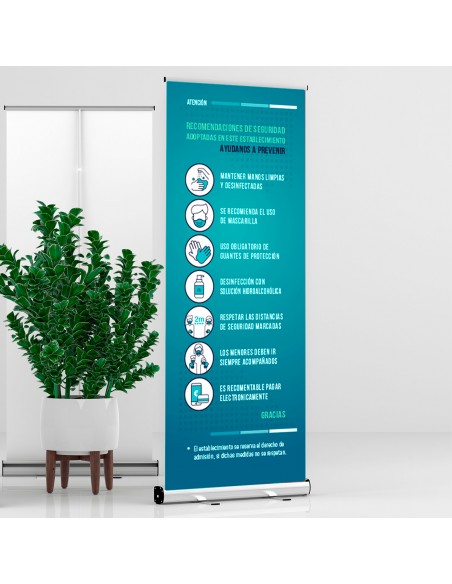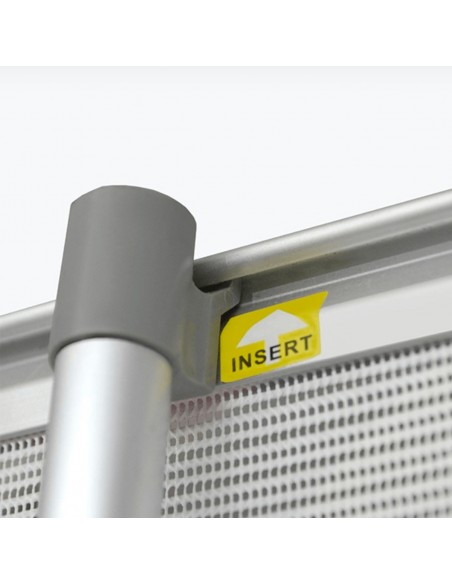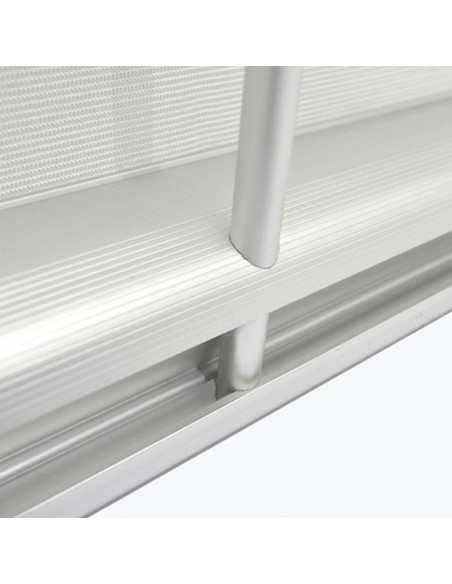 Get your personalized Roll Up now in our online printing house made of high quality textile materials and attract your audience with your own design. Keep your structure for future printing and get the most out of this reference advertising medium.
What is an advertising roll up?
The giant banners, full of bright letters, with striking images and colors, on the top of the buildings are advertising methods that do not go unnoticed. However, it is not necessary to have a large-scale banner to make a business, service or product stand out.
A more discreet but just as effective way is the famous Roll Up; a very popular advertising display that despite the fact that today it has different uses, the most frequent is to advertise social events.
If you want to promote a product or service, Roll Ups are an efficient, practical and inexpensive way to make this information known.
Characteristics
What characteristics should a Roll Up have?
There are basic characteristics that every Roll Up must have in order to fulfill the objective for which it was designed:
-Size: The standard measurement of these advertising banners can be 85 x 200 centimeters. From here, the size can vary to 100, 120 or up to 150 x 200. In addition to that, it is possible to reduce the size of the banner up to 60 centimeters wide.
Although there is a wide variety of sizes available, you have to be careful when choosing the right design. If you need a format that contains a lot of information, small sizes are not the most convenient. In the same way, designing a giant roll up that is devoid of images and information will not be the best way to attract the customer's attention.
-Quality: The advertising format used must be of good quality, as this will be associated with the product or service that is being promoted.
If the roll up is worn, discolored and poorly printed, the public will not expect a quality service or product. That is why at OpenPrint we take care of the quality of all our formats, offering the best material, finishing and printing.
-Structure: One of the things that makes roll ups one of the most requested advertising methods is their ability to be transported.
Its structure consists of a very light tube, which is usually made of aluminum, which is kept stable thanks to some bases, and can include wheels. From that tube, hang the canvas where the advertising content is printed.
The canvas is able to easily fold around the tube. In this way, it is easily transported.
What should a roll up contain?
The content of this advertising format may vary according to the needs and objectives of the project. That is, if you are looking to promote a company that has just opened, it will not have the same design and content of a business that advertises a single product.
However, in advertising terms, there is certain content that everyone should have clearly visible:
Basic information: It is advisable to describe the product or service to which you are advertising, making sure that they are short and specific sentences, with easy to read handwriting.
Basic data: So that potential clients can contact the company being promoted, this format must include a telephone number, address, social networks and website.
Logo: It is the seal of any brand, being the easiest way to recognize your products or services.
Why choose bespoke advertising roll up prints?
The most striking feature of a banner is its ease of transport. However, using a roll up as an advertising tool has other benefits, such as the following:
Wide variety of sizes.
High image quality.
It is one of the cheapest formats to do physical promotion.
Strong and waterproof structure and materials, they can even be transported easily.
Its eye-catching design will attract the attention of potential new customers.
They adapt easily to any space or environment.
Aplicaciones
Where can roll ups be used?
There are many spaces where it is useful to use this format. Although, this depends mainly on the client, the most common sites to make use of them are the following:
-Shopping centers: Renting a space to install the advertising roll up in a shopping center has a high price. But, it will be in view of a large number of people who are looking to consume and buy.
-Social events: including trade fairs or community events.
-In the promoted store: It can be located both inside and outside the establishment, and thus promote it, offers or new products.
-Congresses: They can be used as welcome posters, to give information about an event, or to take pictures to the guests in order to promote your brand.