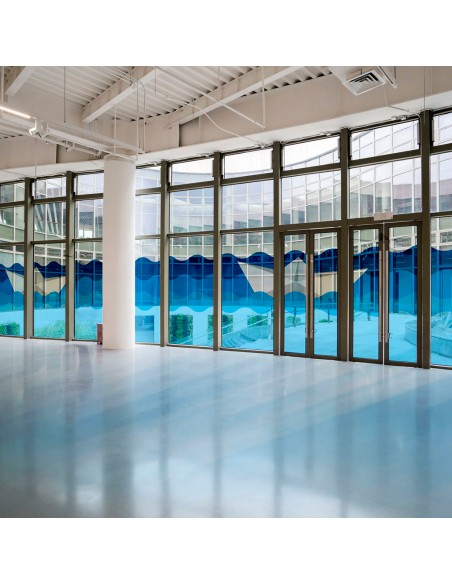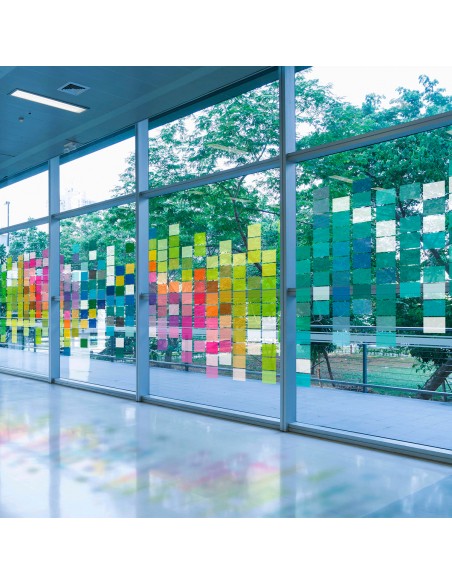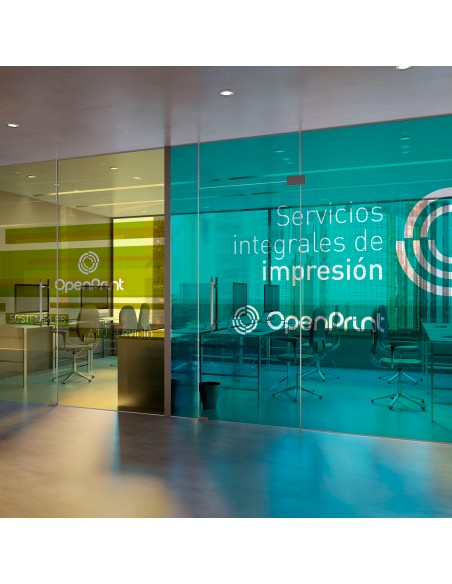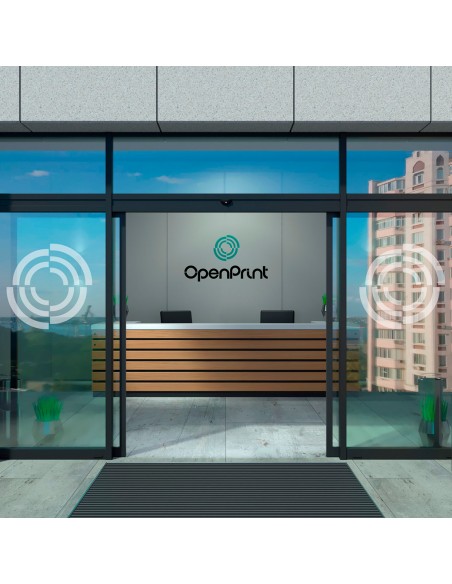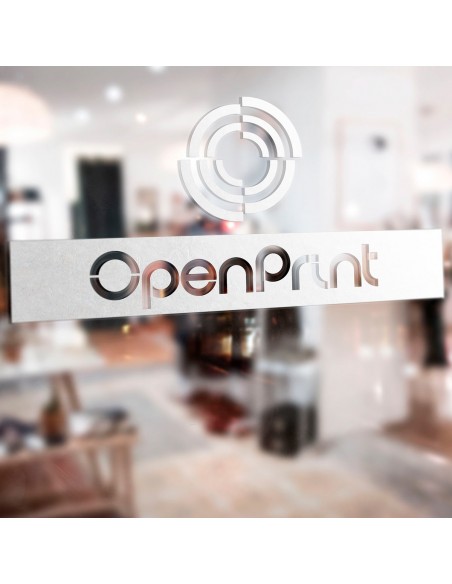 The perfect support to decorate your windows without losing the outdoor lighting in your space. Discover our acid vinyl with or without custom printing for windows, the perfect way to achieve an original decoration or a greater sense of intimacy without losing the entrance of natural light.
Window vinyl printing
Acid vinyls are a graphic solution used by a large number of businesses to improve the appearance of their surfaces, as well as other benefits.
These vinyls are perfect for protecting from the sun, as they protect your eyes from external agents that cause fatigue. In this way, we can guarantee maximum visual comfort, regardless of the weather.
On the other hand, many businesses that opt ​​for this vinyl have the need to find a product that is easy to implement, that offers privacy and that has a reduced cost. This is why it is one of the most widely used alternatives since it is an inexpensive and reliable format that allows for discretion and style.
The reasons why choosing our acid printing service is easy: we offer high-quality, customized products in record time. In addition, we take care of everything, including deliveries to the address indicated by the client
What is a Window Vinyl?
It is a translucent vinyl that is used to cover the glass, whether on doors, windows, shop windows, shops or offices. It is a versatile material that can even be used inside the home, if you have the right space to install it inside the home, either on glass doors or walls.
The key is privacy. Being translucent, it allows the interior to receive sunlight, but with enough protection for these spaces to enjoy privacy. In addition, it is worth noting the elegance that glass pieces obtain when highlighted with vinyls.
Regarding the format, its size depends on the surface where it will be installed, with the possibility of obtaining very small or very large units, for shop windows in shopping centers.
Patterned vinyls add a creative touch to surfaces, making glass look more vivid and colorful. Of course, this element can be used to enhance the corporate identity of companies.
The procedure for installing these vinyls on a surface is very similar to mounting other types of adhesives. It will be enough to moisten the area or surface to spread it from the center, with the necessary care to avoid the formation of bubbles that affect the result.
Applications
What are the uses of an acid vinyl?
These are the main uses and benefits:
• As a decorative element: They project modernity and style. If the business has a glass wall decorated with a vinyl, it will stand out compared to the simpler windows that do not have this benefit. Letters, logos or slogans undoubtedly provide the customization factor that businesses seek so much when they want to make a difference with their competitors.
• As a protection factor: not all businesses have a privileged location that protects them from external agents. One of the most annoying is the sun, so getting extra protection from UV rays by covering glass with vinyl is a good decision.
• Privacy: to take care of businesses or offices it is also essential to think about privacy, to exercise some control over what others can observe from the outside. In that sense, vinyls are ideal to make those highly exposed spaces regain their privacy.
As you have seen, this format has multiple uses and offers many benefits. It is an excellent investment, in addition, at OpenPrint we have the best specialists who will make your vinyls stand out from the competition.