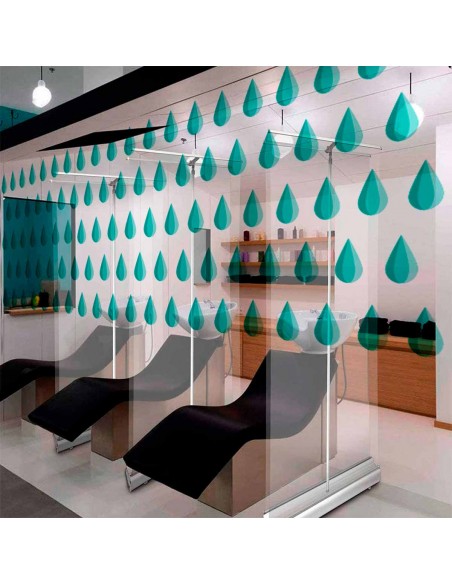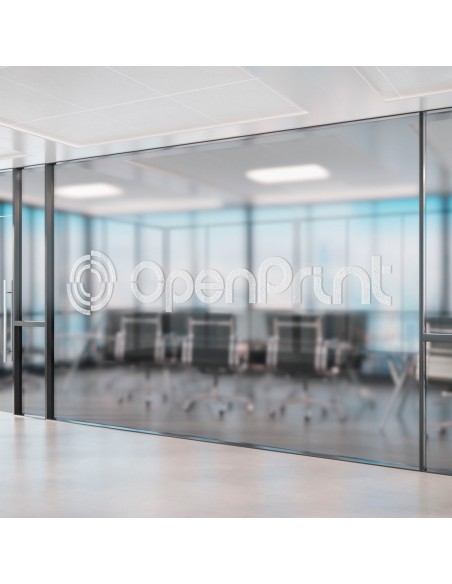 Take advantage of your spaces with more visibility and make them stand out with our custom transparent vinyls. Discover all the models that you can design for both interiors and exteriors. You are sure to find the perfect clear vinyl for your business. Customize it and buy it now!
Printing on transparent adhesive vinyls
Decoration is one of the most important aspects to promote the quality of your products and services in your store or business. For this reason, having elements that decorate your glass walls or shop windows will be a wise option to capture people's attention.
Clear adhesive vinyl is a durable product capable of withstanding or adapting to a wide variety of professional, home and commercial applications. But that is not all! It also has competitive costs that will make it a fascinating option for your business.
At OpenPrint we receive each of our clients' ideas and turn them into tangible projects that will offer the best appearance to your windows and store windows. Our team of professionals will take your images and create vinyls with exceptional quality. By printing a transparent vinyl you will provide your establishment with a special, striking, fresh and elegant decoration. Your crystals no longer have to be simple, now they will be full of life and will look spectacular.
Benefits
What is a transparent adhesive vinyl and what advantages does it offer?
It is designed to decorate flat glass, whether for windows, glass walls, doors or shop windows. It stands out for being a flexible material that supports printing with CMYK colors on one side, it can even be printed inverted for mirror-like effects on your glasses.
When you personalize or decorate your crystals, you will be able to capture people's attention in a surprising way. In addition, you will add value to your corporate image with images of high resolution, quality and elegance. Vinyl is a resistant material with good tolerance to UV rays and humidity. It can withstand temperatures ranging from -40 ° C to 80 ° C, without undergoing major changes in its physical structure.
The designs that are printed can be created by you, you choose what images you want, their size, colors, brightness ... Everything!
Applicactions
What are the applications of transparent vinyl?
The applications of this decorative material are diverse, they can be placed on office window glass to display corporate logos and images, as well as on store windows to enhance the image of your business.
But this product is not only for commercial purposes, it can also be used in the following ways:
For room decorations: the windows of the rooms can have charming and warm designs that provide a pleasant atmosphere.
To decorate glass walls or glass doors: many people in their homes have glass walls that divide interior environments. Similarly, these glass walls are used to provide panoramic views to the outside. In both cases, transparent vinyl can be used to decorate the windows. Even in cases where panoramic views are desired, they can decorate the edges of the glass and create stunning views.
To decorate car windows: advertising can be carried out in many ways, a very popular and economical one is by placing adhesive vinyls on car windows. In this way, you can decorate a moon in a way that does not affect visibility and that promotes your products or services. Even the decorations can be solely aesthetic to decorate or personalize your car.
To consider
What do we have to take into account when applying a transparent vinyl?
The surfaces where the vinyl will be placed must have conditions that guarantee the integrity and viability of the adhesive, therefore, the glass must be free of dust, dirt particles or greasy substances. In the same way, imperfections on the glass (cracks, crevices ...) can affect the aesthetics of the adhesive after placing it.
It can develop bubbles during its installation, they must be removed by pressing from the inside of the vinyl to its outer side.
When it is placed on windows exposed to the sun, materials with special treatments will be required to face UV rays, since vinyls without these treatments can lose their color due to the effect of the sun.
To print a transparent vinyl it is necessary that the images have a high quality, that is, they must be in a 1: 1 scale with resolutions greater than 100 dots per inch (dpi). The larger the image size, the higher its resolution must be. Images for prints with dimensions greater than 5 meters must have a resolution equal to or greater than 3000 dpi.
At OpenPrint we offer you the best printing services on transparent vinyls. The quality of our products is one of the best that can be found in the market, since we work with recognized manufacturers that have the best technology of the moment.