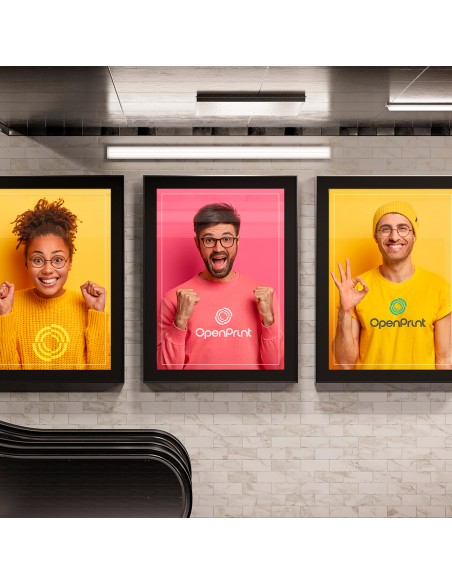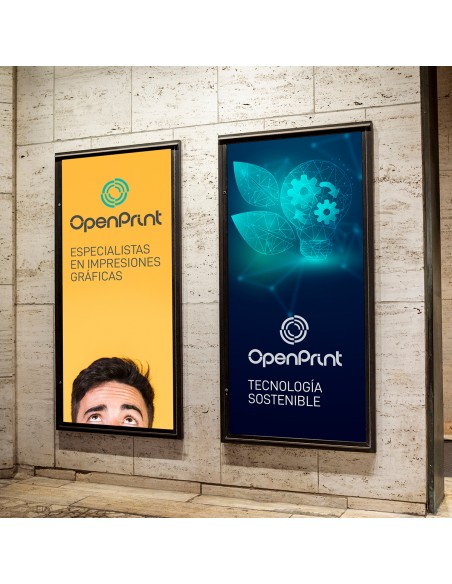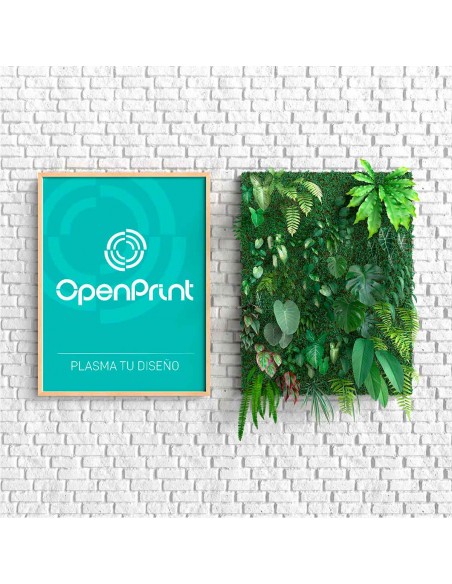 Print your online advertising posters and personalized posters now in your trusted online printing company. Choose from all the available formats and ensure the best printing quality for your campaigns with the printing of advertising posters.
Custom Promotional Billboard Printing
Personalized billboards offer a lot of benefits, located in conspicuous places, they easily attract the attention of the public, without causing excessive spending.
It is a very popular, inexpensive and current type of broadcast, which reaches a large number of views daily. Another advantage of personalized posters is that they can be combined with different advertising media such as flyers and RRSS to make campaigns reach more force.
Consider custom billboards a classic but highly effective propaganda medium. Its functionality is guaranteed when you need to communicate specific messages, especially if you choose a suitable place to put the advertising. You can get more views in strategic points in the city or in specific places such as commercial premises.
Poster printing is one of the most requested services in any online printing company. This format is perfect for transmitting information about our business, service or the call to action that you want to advertise.
Almost any project you undertake can benefit from poster printing, but you should choose the right format for the best projection. Each printing company has a series of formats that you can use, these must be selected before placing the order.
Also, it is important to print using high-quality paper such as that offered by OpenPrint. We focus on taking care of every detail so that your poster is displayed with exceptional quality on any wall, display case or mall business
With us, you will not only get quality digital printing, but also customer support, fast deliveries and all kinds of format options.
Our prices are competitive and ordering custom poster printing is a breeze. All you have to do is access OpenPrint, supply quality image files, and choose material and format preferences.
CHARACTERISTICS
OpenPrint print service features
These are the specifications and types of printing that you can order from our OpenPrint company:
• 150 gram paper type.
• Finish: matte.
• Suitable for indoor and outdoor advertising.
• Printing with quality and certified ecological inks.
• Formats and sizes available for your personalized advertising poster:
-B2: 50 x 70 centimeters.
-B1: 70 x 100 centimeters.
-B0: 100 x 140 centimeters.
-A0: 84 x 118.8 centimeters.
• Formats printed on a UVI or latex technology machine.
• Single-sided printing.
• Printing of (4) inks.
• Blank paper back.
• Large format printing (rigid formats).
All styles of posters in digital support are adjusted to our services and printing machines. Don't limit your creativity, generate poster designs that can stand out. By sending quality images to Openprint you can order any custom printed format to boost your business or event.
WHY CHOOSE OPEN PRINT?
Why choose custom billboards for your project?
• Customizable service. All preferences can be adjusted according to the need of your project. You can order large or small formats, without losing image quality. We take care of everything.
• Promotion on paper supports is recommended to promote local brands. These can connect with your audience: potential customers close to your business. If you choose the right point to place the posters, you can attract interested customers in your food place, store or event.
• If you choose billboards for campaigns that have an expiration date, it will be simpler to get rid of the advertising when you no longer need it. You can quickly remove the posters at any time, without having to depend on the Internet or access to platforms to stop the advertisements you have set up.
• The investment to pay for the printing of posters and posters is minimal when compared to other propaganda media that exist in the market. In addition, posters printed on demand are simpler to manage, in this way, you can give visibility to your company even if you do not have knowledge of technology or social networks. Of course, this type of advertising also serves as a complement to traditional propaganda media such as radio, television and newspapers.
• Advertising posters undoubtedly attract the attention of passersby. These formats can be designed to obtain more visualizations, with creativity, vivid colors and taking care of the selected fonts. The idea is to capture the public with specific messages that are related to the business objectives, such as receiving more clients, inviting them to the opening or presenting offers.
You can also bet on posters printed on other advertising media if you want to boost your brand. These are ideal for connecting with the audience using graphic elements that people will see on the streets.
Every city is full of potential customers. This group cannot be ruled out as potential customers for the products and services you offer.
Posters and posters are the most common means to reach them, as well as the entire set of printed material for your business that you can also order in OpenPrint.