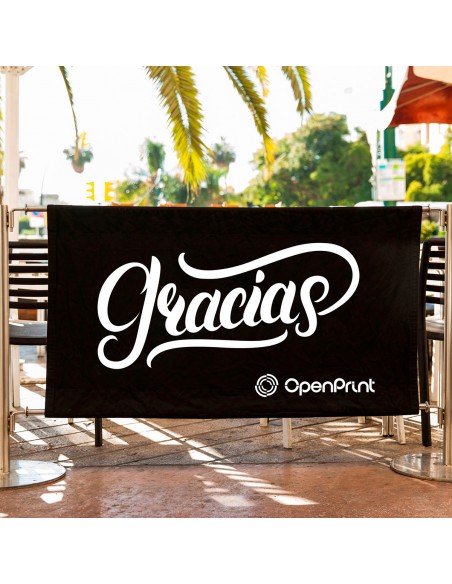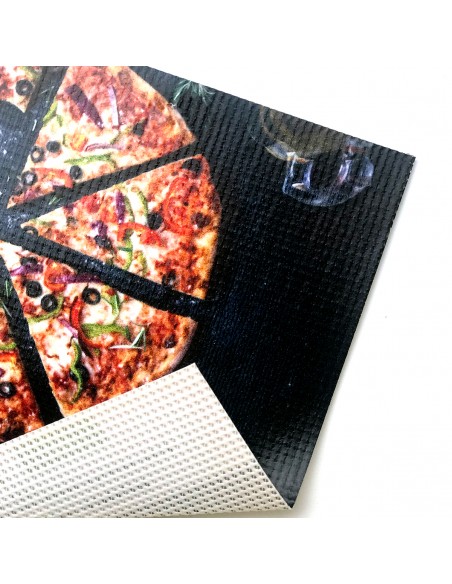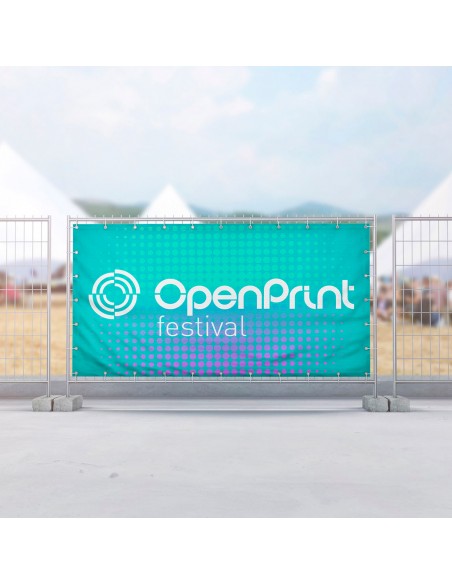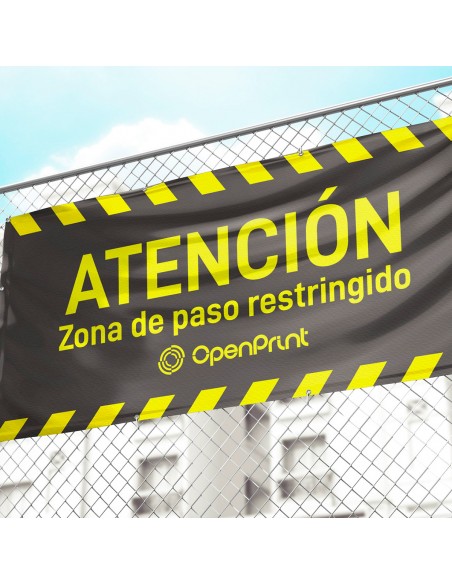 Printing of mesh with custom designs for outdoor spaces. Secure your message regardless of weather conditions with this high-quality format that you will find available in Open Print.
Approximate delivery time:
3
working days
In the case of selecting polycarbonate grommets, four grommets will be located in the corners.
When selecting this accessory, a reinforcement is applied to the perimeter of the banner to prevent breakage.
Pole pockets for standard 4 cm tubes will be applied.
Professional File Control
Select Yes in Professional File Control so that our team can edit your designs as you prefer.
Printing of Mesh Micro-perforated canvases
Micro-perforated advertising banners are an increasingly demanded choice by companies and advertisers who want to get their message to the public in a fast, visual, direct and graphic way. It's a way to easily grab people's attention.
Companies, political parties, social entities, sports clubs, public institutions, all of them use this kind of canvas to reinforce their corporate image and brand identity, to promote themselves. They are also an excellent investment, as they are imperishable, extremely resistant and reusable supports.
OpenPrint offers a professional, effective and quality micro-perforated canvas printing service. The material we work with is of the highest level. We agree on a tailor-made budget according to the client's needs, adapting the canvas to their requirements, adapting to the desired dimensions, the required orientation and complementing the order with top-quality accessories. We offer rigorous and effective services.
These tarps have a simple and affordable assembly for anyone. We also advise on which are the best options in this regard according to the order. We have an experienced team of professionals with more than 15 years in the trade and numerous assignments behind them. We know what you need.
Designs can be printed at the highest quality, with really sharp resolution and focus. We will advise you on how to work in a large format so that the printing is of quality. We have graphic designers specialized in these works to achieve the best result applicable to any type of structure, conditions or support.
At Openprint you can count on a lifetime guarantee when purchasing any signage products. The material used seeks at all times to be eco-sustainable and respectful of nature. We look out for the environment. You will also find a large number of materials and formats, since we want to offer the best service to our clients.
CHARACTERISTICS
What is a micro-perforated canvas?
It is a very resistant type of canvas, printed on both sides with ultraviolet technology and specially designed for places with wide visibility. It is an interesting formula to hit from great distances. It is usually used in large events such as fairs or congresses, in political or advertising campaigns, and installed in large crowded areas.
The mesh canvas print is made of polyester fibers, a material with great strength and endurance. It is endowed with excellent tensile strength and resistance to tearing and fire. The winds pass through the canvas thanks to its tiny holes, thus mitigating the sail effect and avoiding pulling or tearing. It is a material that supports water without suffering wear, high and low temperatures and even prolonged exposure to the sun. Inks are used that dry instantly; they are odorless and do not stain, respectful to the maximum with the environment.
These canvases are usually accompanied by a complementary material such as flanges, adhesives or seams that reinforce their hold.
Advantages
What are the benefits of using mesh?
The great benefit of using a mesh canvas is its ability to resist outdoors and indoors in good conditions due to the quality of the material used. It is a great option if we want canvases that have great durability and whose impression denotes sharpness.
Mesh canvases have different types of uses. They can be used for cladding large facades as advertising, for exterior or interior signage, for billboards at events or fairs, cover livestock buildings, enclosures, etc. They are also frequently used to cover buildings under construction, sports halls, golf courses or areas that we want to cover with an advertising message with the brand identity.
The idea of ​​the advertising canvases is their integration into the urban landscape, installing them in a strategic location, seeking the consonance with the objective target of the company or advertising entity. Access to a city where many vehicles or pedestrians pass daily, the entrance to a convention or a place that concentrates crowds are ideal places to place a giant banner. Its geographical segmentation is capital. There are many billboards that have become iconic and have managed to remain in the collective memory of the public.
The benefits of this type of advertising are more than proven. Giant and static signage always works. All marketing and advertising experts agree that promotions must be accompanied by this type of media if it is to be effective. Standing out above the rest requires an investment in tarps.
If we are designing an advertising campaign with a great impact on our audience, which manages to attract attention and generate comments about it, micro-perforated advertising banners are a great resource for your business. They are very durable, ideal for long-term campaigns. And beware, they are reusable. They can be used for promotion on various dates or at different locations.
If you still have any questions about micro-perforated canvases, do not hesitate to contact us.