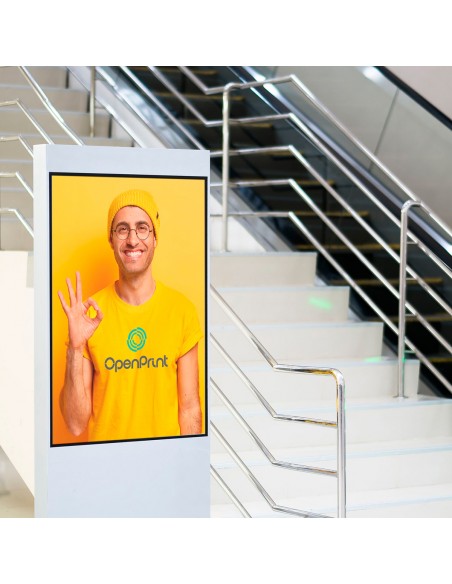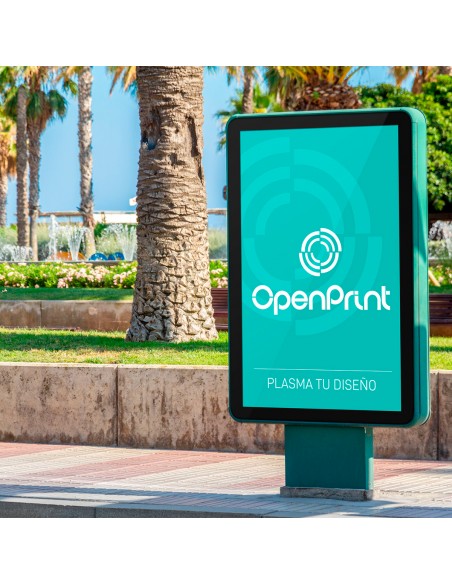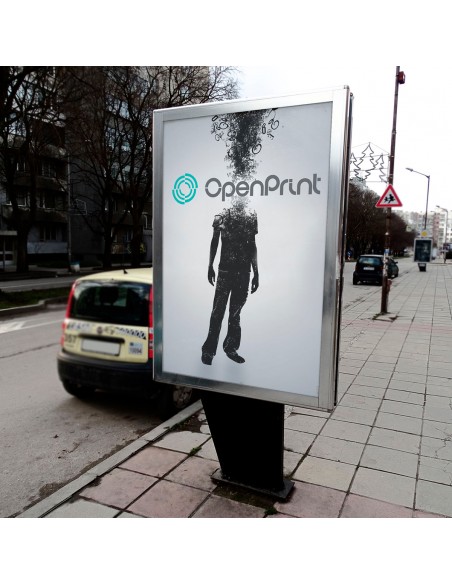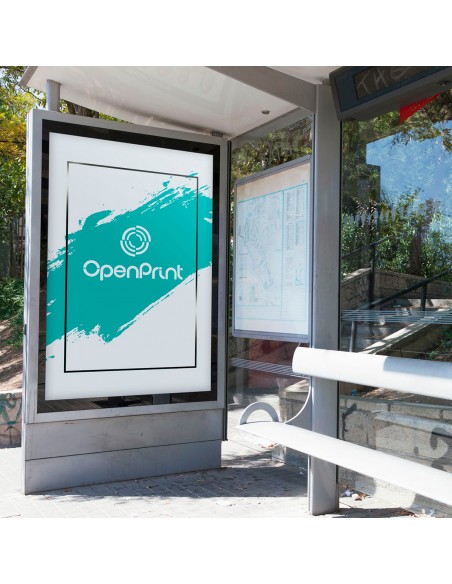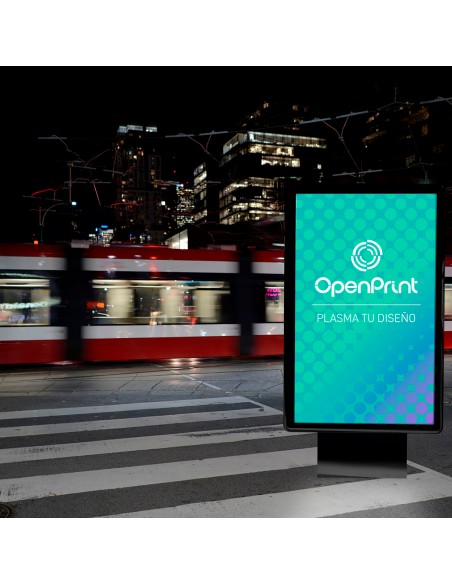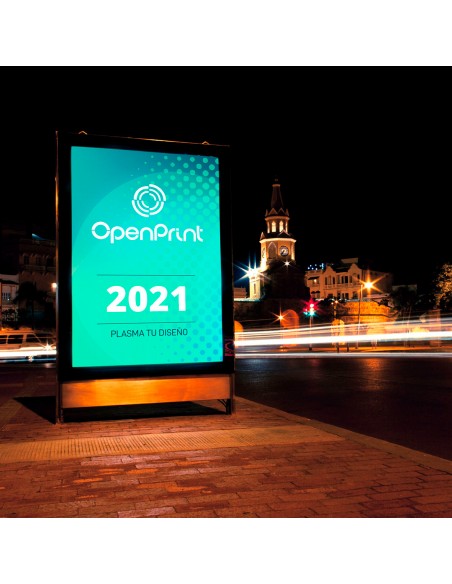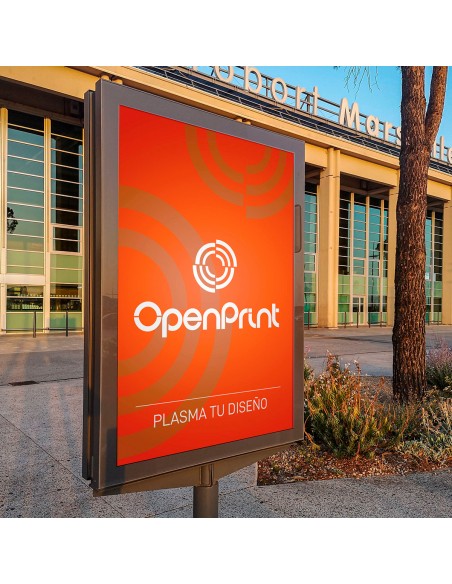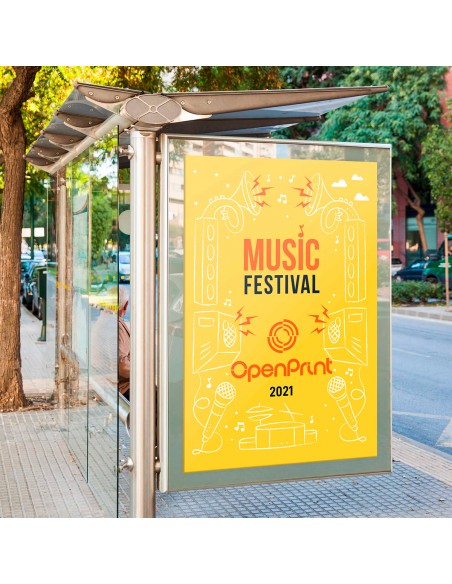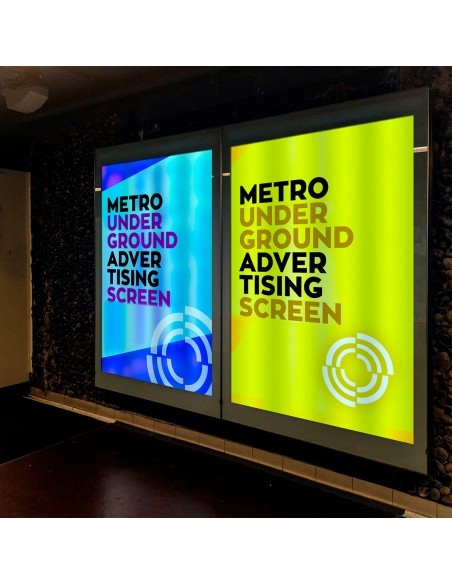 At Open Print we offer you our online Mupi printing service for advertising structures. Our large format machinery guarantees an unbeatable photographic quality for your advertising messages. Create your mupis in the most comfortable and easy way. One-sided printing on 150 gram glossy paper. Measures 120x175 cm.
Advertising Mupis Printing Service
Technology advances day by day, and with it advertising strategies, however, outdoor advertising is still an excellent alternative to increase the sales of your business.
OpenPrint is the leading company in graphic printing, here you can carry out your marketing strategy by contacting their specialists and requesting your budget to print the best advertising billboards to position your brand.
Thanks to our printing service, you can use 150 gr paper with a glossy finish at the best price, ideal for the manufacture of your advertising posters. These posters will have the measures 120 cm x 175 cm, being the perfect size for installation in bus stations, train stations and taxis.
In addition, in OpenPrint you can choose our environmentally friendly latex inks, this because the manufacture of these inks is water-based.
We also have a fast curing UV printing service and versatility of adhesion to various types of materials. Likewise, this printing technique is also friendly to the environment, it does not produce odors and its emission of chemical substances is almost zero.
As these are innovative machines for large-scale digital printing, you can be sure that we use inks of great quality and duration, capable of adhering to various surfaces, preserving their brightness and color for much longer than conventional inks. Each of our products are even FSC certified, for this reason, we recommend printing your business on FSC certified paper to contribute to the development of a new era that is 100% sustainable for the environment.
TYPES
What is a Mupi?
The mupis are an excellent advertising alternative for the creation of campaigns for services or products of mass consumption, these types of posters must be located in areas where there is a large influx of people. In case you did not know, the mupis (urban furniture as an information point) are the advertising posters that we see the most on a daily basis, this because they are found in all train stations, buses, shopping centers, among others.
Currently, there are various types of mupis. In the first place, we find the simple billboards that have advertising content on both sides and are installed in places of great display such as the entrance or exit of a shopping center. Similarly, there are also rotating billboards, these show more than two ads simultaneously with an approximate duration between 25 to 30 seconds.
Finally, there are the digital mupis, to this type of ad you can add multimedia content, being the most expensive in the entire market. For this reason, OpenPrint offers a high-quality digital billboard printing service, at affordable prices and with a low impact on the environment.
ADVANTAGES
What are the uses and advantages of advertising Mupis?
Outdoor billboard installation, despite being a fairly old technique, continues to gain popularity in various regions of the world. In Spain, the printing of billboards for advertising is among the top five most used and effective techniques to increase business sales.
The mupis are posters that have the necessary dimensions to capture any information related to your company in an attractive, striking and complete way. In addition, in OpenPrint you can print your mupi in high definition, this will make your ad visible.
They are an excellent alternative to advertise concerts, plays, sporting events, nearby food venues and more ... If you want to attract customers to your events or businesses, all you have to do is install mupis locally within your region. We recommend that you install these ads near schools, universities, stations, among others.
You can install it or hire them for a specific time, that is, the publication of these posters takes place over several weeks, although if the client wishes to extend their publication, they can also do so. In this sense, the digital printing materials of the billboards are inexpensive, compared to other types of advertisements.
Investing in the printing of these billboards will be an excellent investment, due to its great reach and great visibility. You will attract the necessary clients to boost your business idea.
Get in touch with true specialists in digital printing. OpenPrint will not only make your graphic arts project come true, it will also be your best ally to boost your business and take care of our planet.