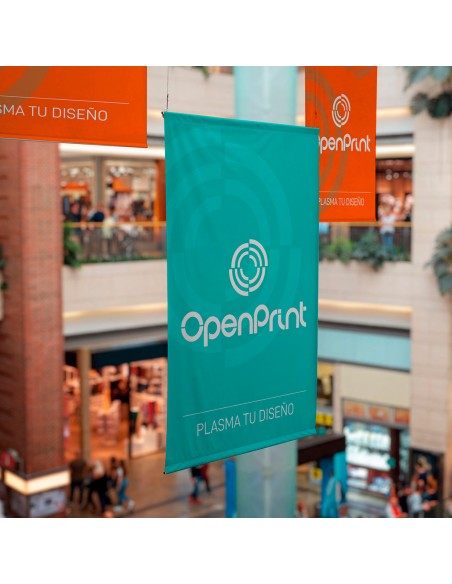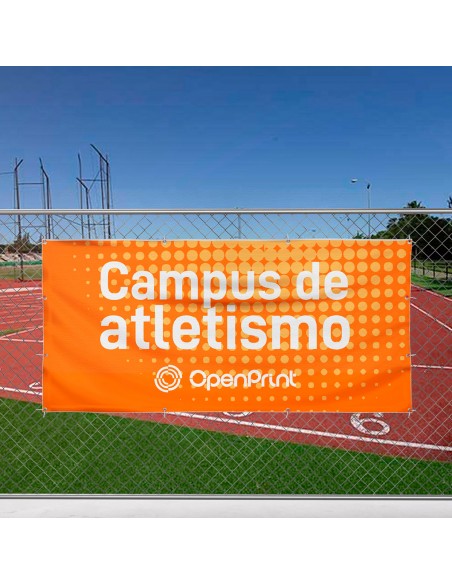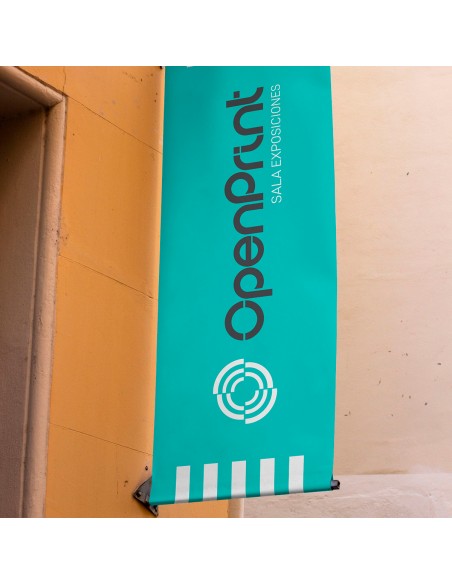 Print your advertising banners online and win over your target audience with your messages in large format. Discover all the advantages that Open Print offers you and choose the support that best suits your needs, to make your PVC canvas designs come to life.
Approximate delivery time:
3
working days
In the case of selecting polycarbonate grommets, four grommets will be located in the corners.
When selecting this accessory, a reinforcement is applied to the perimeter of the banner to prevent breakage.
Pole pockets for standard 4 cm tubes will be applied.
Professional File Control
Select YES in Professional File Control so that our team can edit your designs as you prefer.
Remember to upload PDF file and pre check instructions to mount your designs correctly for printing.
Custom PVC banner printing
The use of PVC tarpaulins for advertising is an economical and versatile strategy for those who want to make an investment in brand image using high-quality, weather-resistant materials. This type of format is one of the most common for all types of companies, since it can be installed both indoors and outdoors.
These signs are made of polyvinyl chloride known as PVC, which consists of a highly versatile thermoplastic polymer when fused with other additives, creating optimum resistance.
ADVANTAGES
Why choose PVC advertising banners?
Versatility: You can use PVC banners to advertise in a multitude of venues and events, from pavilions to exhibitions and much more.
Resistance: thanks to its manufacturing properties, this material has great weather resistance, which will ensure that the canvas will remain in perfect condition for a long time.
Design: you will be able to capture on your poster any design you want, achieving a perfect quality of color, sharpness and brightness in all the digital prints of your designs.
Price: this type of printing is characterized by being one of the cheapest on the market and offering the longest duration. For this reason, digital printing of canvases made of pvc is more popular every day compared to other types of posters.
This type of poster can be installed in the place you want, thanks to the printing technology your design will always remain colorful, bright and with great clarity.
WHY CHOOSE OPEN PRINT?
Best PVC Banner Printing in OpenPrint
Discover in our online store the wide range of services and formats that you have at your disposal in OpenPrint. Here you will find the best specialists in digital printing of PVC canvases, as well as a large number of formats to reach the customers of your business in a direct and impactful way.
You can select a complete customization of the PVC tarpaulins to adapt them to the needs of your business. You just have to configure the product on our website, explaining in detail the presentation of your advertising project and any of the OpenPrint consultants will advise you, offering you the best high-quality formats that suit your needs.
In our eCommerce, you will not only design your PVC canvases for your 100% effective large format marketing strategy, but also, if you need it, you will find the necessary tools for the creation of posters, personalized stickers, screen printing, and even original signage. for the different branding strategies of your business.
Dare to configure and design with OpenPrint the best pvc tarpaulins to install anywhere.
Let yourself be advised by experts, here your ideas are important and we will make them come true!
Material

Trama

Tejido básico

Peso total

Peso tejido

Peso coating PVC

Resistencia tracción

Resistencia rotura

Adhesión

Temperatura

Retardante al fuego

Lacado